Our Staff
We are a congregation of The United Methodist Church, a denomination that finds its roots in spiritual revival, and has impacted millions across the globe. The United Methodist Church seeks to serve others, nurture constantly growing relationships with God, and connect with those in the world around us today.
For more information about our background and The United Methodist Church, please visit www.umc.org
CHRIS ABEL
SENIOR PASTOR
Chris Abel is our senior pastor and describes himself as a "Pastor/Creative-type/Adventurer." A former atheist turned passionate follower of Christ, he completed his seminary education in Washington, DC. Before coming to First UMC Blue Springs, Chris pastored at the Church of the Resurrection in Leawood and The Gathering in St. Louis.
ANDREA LYTTLE
OFFICE MANAGER
I love gardening, animals, traveling and all things sports. My LOVE of sports is all things Royals and Chiefs and am now part of the Red Coaters for the KC Chiefs!!!
BROOKE ROSKOP
DIRECTOR OF MISSIONS
I like to crochet. I am self taught and still learning but it keeps my hands a mind busy. My husband, 11 year old daughter, and I live in Blue Springs with our crazy dog. My passion is to provide service opportunities for First UMC, my family, and me! When I am not working, my time is spent shuttling Sydney, our daughter, to and from swimming and volleyball practices and meets/tournaments.
KRISTI HARRIS
DIRECTOR OF INVITATIONAL MINISTRIES AND MEMBERSHIP
I am a wife to a wonderfully patient man, a mother to two very spirited kids and a child of God. When I am not at work I enjoy being around my family, cooking, traveling and supporting all things St. Louis.

ELAINE BUCHHOLZ
CHURCH TREASURER
I started at First UMC in 2003. Since then I've added several grandchildren to my world who delight and consume me. My husband and I own a condo at the Lake of the Ozarks and love doing all the things this beautiful area provides. I enjoy working jigsaw puzzles and spending time with family.
ANDREW NELSON
ASSOCIATE PASTOR
I see myself as the nerdy, sports-loving, hobby enthusiast that wants to love people well. I grew up in Oklahoma and went to Oklahoma State for undergrad. Go Pokes! I lived in Kansas City for a couple years working at Cerner before going down to Dallas for seminary. I met the love of my life, Tara, down in Texas, and we are getting married in the fall. I have worked in ministry through church camps, youth ministry, and recreational ministry. I have returned to KC to be the associate pastor and share the love of Christ. If you ever want to talk about any pop culture fandom, board game, or sports team, let me know!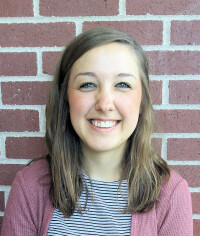 NEXTGEN PASTOR
I'm grateful to be serving as NextGen Pastor. My husband, Jon, and I have two of the best dogs out there-Lily, a golden retriever, and Aaron, a black lab. We love to be outside camping, hiking, or porch sitting. I also like to read, drink a good latte, and invest in the next generation we are raising up as the church!
IAN HINDLE