Serve Our Community

First UMC has begun a 5 year vision plan. This plan includes a goal of 10,000 hours of service to be completed within those 5 years. We have always been good at serving our community quietly, but now is the time to celebrate. Together, we can show how fun and meaningful service can be for us and those we serve. In order to celebrate and help us reach our goal I will be recording all service projects that we do for our community and beyond. The really exciting part is we have already spent 200 hours in service during this strange year. If you are involved in a service project, I would love to hear about it. Please call the office, send me an email, , or use the form to tell me what you have been doing. If you are interested in becoming involved in missions and service I would love to talk to you and connect you with the many ongoing service opportunities as well as share with you the ones we are currently developing. It is an exciting time in the life of our church. I hope we can become the church that is known for our work in the community and that we are focused on helping our neighbors. "But the one who is greatest among you will be your servant." – Matthew 23:11
Blessings,
Brooke Roskop
Mission Coordinator 816-229-8108 ext. 108

Have you served lately? Please submit your volunteer hours by clicking here.
---
Current Mission Opportunities:
Each month our church focuses on a different mission projects in which we can serve our mission field.
DIFFERENCE MAKERS LITERACY PROGRAM
Do you want to make a BIG difference in a child's life? Do you have an hour a week, during the day within the school year, to spend time reading with and to an elementary student? If so, we have the spot for you! Our VILLAGE (Volunteers in Learning, Literacy, and Giving Enthusiastically) is now called Difference Makers, the school district's name for our program. It is fitting, as that is WHO we are! Volunteers who make a difference!
Community Service League (CSL) School Supply Store

It's already that time—time to collect school supplies for CSL! CSL holds a back-to-school store in First UMC's gym every year for families that need a little help with the expense of school supplies. Families register with CSL and shop by appointment only. First UMC donates many, many items. We also transport the items collected at the CSL office to our gym. Volunteers are also needed the week of the event.
August 12, 10 a.m. at Blue Springs CSL to load and transport supplies
to the church gym.
August 14, 2 p.m. at church to help transport left over supplies back
to the CSL office.
Donation list:
3" Zipper Binder; Pencils Box 24; Sticky Notes 3 x 3; Sharpies - Ultra Fine Black; Wide Line Spiral Notebooks; White Eraser; Tl30XllS Solar Calculator; Wide Line Notebook Paper; Colored Pencils; Dry Eraser Markers; Black Pens - no Gel - with cap; Folder with brads; Folder without brads; Crayola Classic Markers - 8 count; Pencil Bag with Zipper; Large Backpacks; 3" Notebooks; Red pens with cap; Kleenex and Wipes
We ask that you return items by Sunday, August 8. You can drop them off at the office during normal business hours OR drop them in the barrel by the welcome desk .

ReStart
We have been providing meals for many years which includes making, delivering, and serving lunch on a Sunday every other month. This is a wonderful way to support our homeless neighbors. Our dates for 2021 have been reserved and we need groups or families to sign up. We have ONE remaining date left.....December 19. Lots of time to make plans with your group. For details and to sign up, contact Patty Stock at or 816.210.4840.
Youth Mission Trip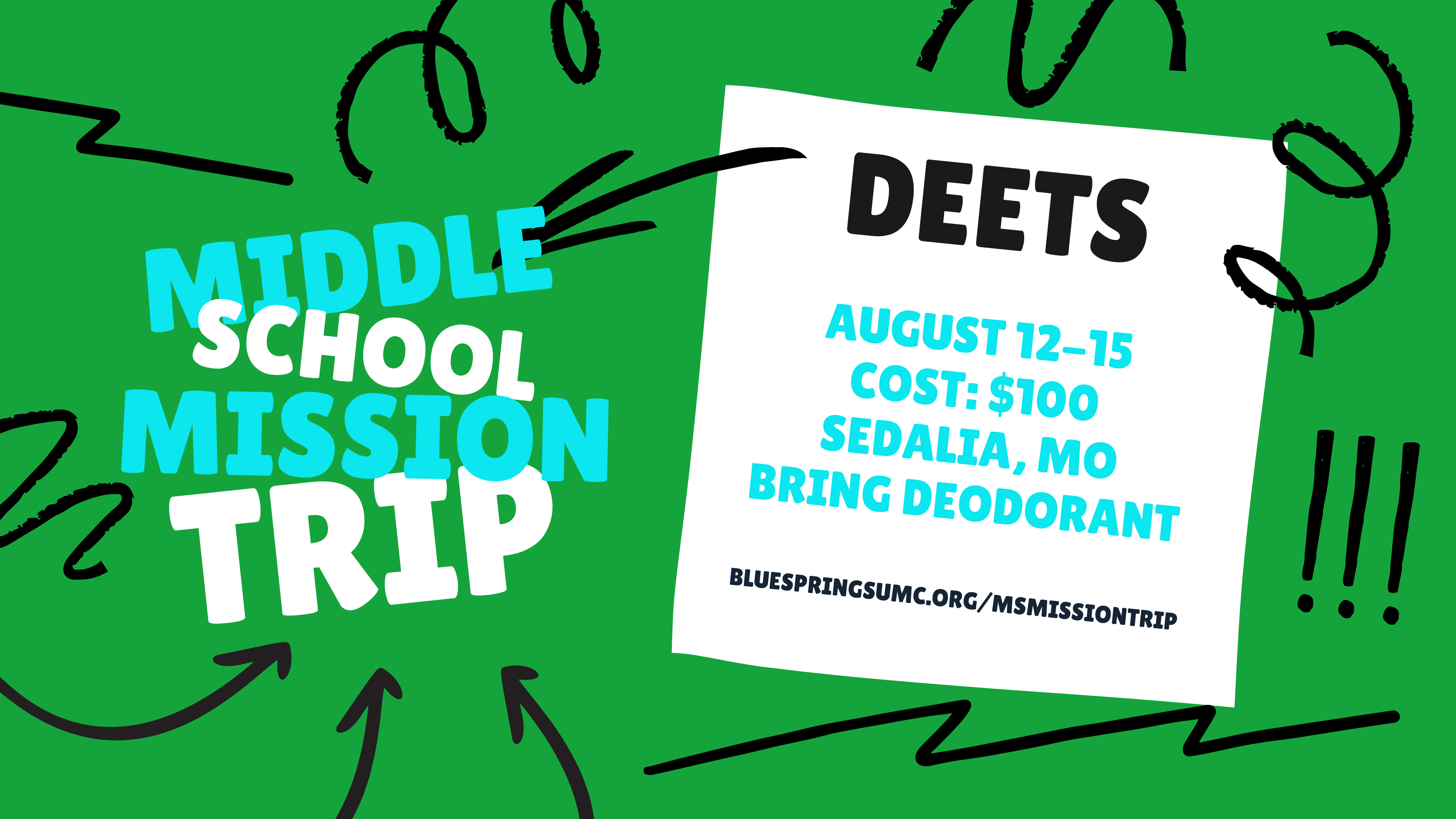 If you know or are a student that is currently in 6th, 7th, or 8th grade, we are planning for you, too! Because of the pandemic, we have changed the dates for the middle school trip. We will leave the church on Thursday, August 12 and return Sunday, August 15. We will be serving in Sedalia, MO. The cost of the mission trip is $100. We will have plenty of time to plan something very fun, meaningful and safe. Sign up below.
Calling All Sewers
We have been sending dresses and shorts with mission teams around the world for many years. We have a good supply but could always use more.
If you are still stuck at home and can sew, we are looking for simple dresses, sometimes called pillowcase dresses, in all sizes for girl. These dresses do not have to be made using actual pillowcases. Here are some links to free patterns or use your own - please bring any completed items to the church office or feel free to drop them off in the church lobby on Sundays.
Can't forget the boys! We need elastic waistband shorts in all sizes for boys. Here is a link to a simple pattern.